Daniel Ream, PT, DPT
Doctor of Physical Therapy, Exercise Specialist
PT#33040
Dr. Dan Ream specializes in orthopedics, sports medicine and balance rehabilitation. He enjoys helping patients reduce their pain and return to their prior activities with confidence. His easygoing and friendly attitude will put you at ease, and you will feel assured with his knowledge and skill in treating your orthopedic or neurologic problems. He earned his Doctorate in Physical Therapy from Rockhurst University in Kansas City, after completing his Bachelor's degree in exercise science. To help patients achieve their goals, Dr. Ream incorporates a movement and exercise based treatment approach, with his manual skills, and LSVT approach for Parkinson's. After practicing as an orthopedic clinician in Missouri, Dr. Ream and his wife spent years in St. Thomas, US Virgin Islands, where he became lead physical therapist for two outpatient clinics. In his free time, Dan enjoys running, playing with his kids, and enjoying SWFL living.

Rachel Tritaik, PT, CLT, LMT
Physical Therapist, Vestibular Specialist, Lymphedema Therapist, Licensed Massage Therapist
PT#13489, MA#80499
Rachel Tritaik owns and manages the Island Therapy Center, opening the clinic in 2009 to serve her community. Rachel grew up in England and Canada, and graduated from Dalhousie University, in Halifax, Nova Scotia. Rachel treats many orthopedic and neurological disorders along with specialties in vestibular rehabilitation, dizziness, balance disorders and lymphedema treatment. Rachel enjoys lecturing to community groups on a variety of topics to improve health. Trained in hands-on techniques in Canada and the USA, Rachel is also a skilled Certified Massage Therapist. A Sanibel resident since 2008, Rachel enjoys paddle-boarding, running, and yoga, and is an active member Sanibel Captiva Rotary Club, American Physical Therapy Association and the Sanibel Captiva Business Women's Association.

SEAN SHERIDAN, PT, DPT, CSCS
Doctor of Physical Therapy, Certified STRENGTH AND CONDITIONING SPECIALIST
PT#37922
We look forward to welcoming Dr. Sheridan back once our Sanibel clinic is restored.
Dr. Sean Sheridan specializes in orthopedics and sports medicine, with an added background in personal training and fitness. Born and raised in Massachusetts, Sean received both his undergraduate and doctorate degrees from Springfield College. Sean joined the Island Therapy Center following several years of mentorship and clinical practice in Boston, MA. Through a blend of hands-on manual treatment, and a specifically tailored exercise program, Sean strives to not only get you out of pain, but to help you move and feel better than you have in years! Native New Englanders, Sean and his fiancée have traded their ski boots for flip flops and are enjoying all island life has to offer! Sean is available for physical therapy services Tuesday through Saturday during our winter season.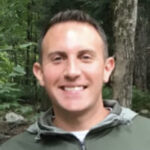 Charles Kull, PT, DPT
Doctor of physical therapy
PT#29094
We look forward to welcoming Dr. Kull back once our Sanibel clinic is restored.
Dr. Charles Kull specializes in orthopedics and sports medicine, with an added background in strength and conditioning, balance training, and post operative rehabilitation. Born and raised in New Jersey, Charles received his doctorate degree in physical therapy from Rutgers University in 2012. Charles played collegiate baseball and has a background in strength training and conditioning for various sports. He incorporates a blend of manual treatment, corrective exercises, and education to help clients meet their goals. Charles strives to use his skills and knowledge to help his clients move better in their every day routine and improve their overall activity level. He also has training in the Graston technique and kinesiotaping to help assist in recovery. Charles and his wife Brittany have a son, George, and they enjoy outdoor activities including fishing, hiking, swimming, and going to the beach. Charles is available for physical therapy services Monday, Wednesday, and Friday.

Andreia Franco, LMT
Licensed Massage Therapist
MA#90459
We look forward to welcoming Andreia back once our Sanibel clinic is restored.
Andreia has been interested in body movement and awareness for decades, beginning with her BS in Physical Education in Brazil. She certified in Rolfing Myo-fascial Release Therapy (2010) and also in Reiki Energy Therapy. Andreia's skills in massage therapy include not only myo-fascial release and Rolfing, but also deep tissue massage, Swedish, reflexology, relaxation and trigger-point techniques. Since moving to the US from Brazil in 1983, Andreia has worked in the fields of massage therapy, physical education and movement science, and has a wonderful healing touch. She additionally holds a National Child Development Associate credential, and received a Graduate Certificate in Psychopedagogy (the psychology of education). Andreia is always interested in learning new therapeutic techniques to help her clients. For fun, she enjoys bike riding, playing pickleball and strolls on the beach. This season, Andreia is available Mondays, Tuesdays and Fridays.

Mahnaz Bassiri
Certified Pilates Instructor, Certified Personal Trainer
We look forward to welcoming Mahnaz back once our Sanibel clinic is restored.
Mahnaz has studied Pilates for many years and certified with CORE Dynamics Pilates for Mat and Reformer. We also congratulate Mahnaz for winning the "Best Trainer" designation for the "Best of the Islands" awards. She enjoys teaching with a compassionate approach and key attention to form and safe performance for all her clients. As a Certified Personal Trainer through the AMFPT, and Group Exercise Trainer through the AFAA, Mahnaz works with individuals with all levels of health and wellness goals. She has lived in Florida for over 15 years, and has a true passion for helping people maintain a healthy lifestyle, and achieve their goals safely and efficiently. Many on Sanibel know Mahnaz from her classes at the Sanibel Recreation Center, and her reputation as a skilled and thorough instructor, with a heart of gold.