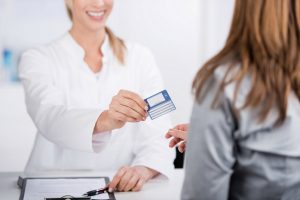 REFERRAL OPTIONS
No physician referral is needed for PT treatment in Florida, but one may be required by your insurance. If so, ask your physician's office to fax us a referral for physical therapy 239-395-5857. Or you may bring a written referral on your first visit. If your physician recommends a different clinic, you may still request us, and we will accept the referral. Your physician may be unfamiliar with our services, or refer you to a clinic that is not in a convenient location. Rest assured we will stay in close contact, and follow any protocols. We are also happy to contact your physician's office for you to request a referral, if needed.
MEDICARE
We are participating providers for Medicare Part B, and Medicare supplemental/secondary insurance plans. This means that we will not bill Medicare patients higher than the Medicare allowable rate, and we will submit claims for you directly without requiring payment at time of service. Some supplemental or secondary plans cover the Medicare deductible and remaining 20% balance not covered by Medicare. Others will require a co-payment or portion of the balance to be paid by the patient. Please check your policy for details. If you are receiving home health agency services covered by Medicare Part A, we will not be able to bill Medicare Part B concurrently.
MEDICARE REPLACEMENT AND MEDICARE ADVANTAGE HMOs / EPOs
Some of these plans may have lower premiums than traditional Medicare Part B, but please be aware they often carry higher co-pays for therapy services. We are in network with many Medicare plans, however we (and other local therapy providers) may be out of network with the primary carrier, which may result in a higher co-payment. Please contact your insurance carrier to confirm your benefits for service at our clinic.
OTHER INSURANCE
We accept most major insurances (including Aetna, Anthem, Banker's Life, BCBS, Cigna, Colonial Penn, Commonwealth, Continental Life, Empire, Golden Rule, Humana, Tricare, Railroad Medicare, United Health Care) and are happy to file your insurance for you, or provide you with the appropriate forms to submit yourself. We are out-of-network with non-Medicare plans including PPOs (as are other clinics on Sanibel), so please call your insurance to ask about their out-of-network coverage. We require a flat-rate payment each visit (comparable to Medicare rates), unless your deductible has been met. We are required by law to collect any patient responsibility amount (co-insurance, co-payment, deductible) determined by your insurance. Rest assured that any reimbursement for claims we file on your behalf (after patient responsibility is met) will be sent directly to you, or reimbursed by us within 30 days, once all insurance payments are received.
AUTO INSURANCE
Covered benefits from auto insurance following an accident vary, If you have been in an accident and have a physicians referral for physical therapy and/or massage therapy, we will be happy to process your claims. Please note that payment may be due at the time of service for some insurance plans, and will be reimbursed.
SELF-PAY PLAN
We offer a generous flat-rate for all individuals who pay at the time of service in our clinic (comparable to Medicare rates). This ensures a full 40 or 60 minute treatment, one-on-one with the physical therapist, including manual therapy, education and instruction in home program or activities. This option is advisable for those with high deductible plans, HMOs or no insurance. We are also happy to provide the appropriate paperwork for our international patients, or for those who choose to file their own insurance. In Florida, a physician prescription is no longer required.
MAINTENANCE PROGRAM
This discounted program is available for Medicare patients desiring continued sessions once therapy goals have been met. Since Medicare will not cover most maintenance therapy sessions, this option is perfect for patients wishing to maintain their level of function, mobility and balance. The patient can continue working with their physical therapist on a one-on-one basis, including manual therapy, modalities and skilled supervision of balance activities. This option also suits patients who have difficulty complying with a home exercise program, or have safety concerns with exercising at home. The number of visits and frequency of visits is entirely up to the patient. A Medicare Advanced Beneficiary Notice (ABN) will be provided.