EMPLOYMENT OPPORTUNITIES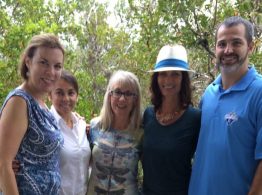 Want to work in a PT-owned, successful and fun environment, with a great team, great compensation and flexible hours, on beautiful Sanibel Island?
Our clinic philosophy emphasizes quality over quantity, with one-on-one sessions only, and the same patient assigned to the same therapist (no PTAs). Easy and intuitive documentation system (our therapists love it), and great clinic atmosphere. Wide variety of patient diagnoses (mostly orthopedic) from a wonderful community of residents and seasonal visitors on Sanibel.
We are seeking an additional SEASONAL PHYSICAL THERAPIST to join our team either full-time and part-time this season from January to April. High hourly compensation, bridge-toll coverage and housing stipend offered. If you are interested (and are a PT, not a recruiter), please email directly: rachel@islandtherapycenter.com.
Please include your resume and/or questions in the body of the email (to avoid spam emails, we may not open attachments until we have corresponded with you).
Physical Therapist licensed in Florida
At least 2 years outpatient experience
Flexible hours/days for part-time or full-time
January through April
Perfect for "Snowbird" therapist!
Perks include bridge-toll coverage (for therapists travelling from Fort Myers or Cape Coral), true 1:1 schedule, flexible hours, high compensation and housing stipend.
Great variety of diagnoses, with opportunity to utilize any additional specializations you may hold (i.e. women's health, Pilates, lymphedema, Graston, TMR)
We also have openings for OFFICE POSITIONS, with experience in computer scheduling, customer service and front desk environments. Please email rachel@islandtherapycenter.com if interested.
We are additionally seeking an additional, experienced MASSAGE THERAPIST for 3-4 days per week peak season, with drop to 2 days per week off-season. At least 3 years continuous experience required, with excellent knowledge of massage therapy-based anatomy and medical massage. Please email rachel@islandtherapycenter.com if interested.